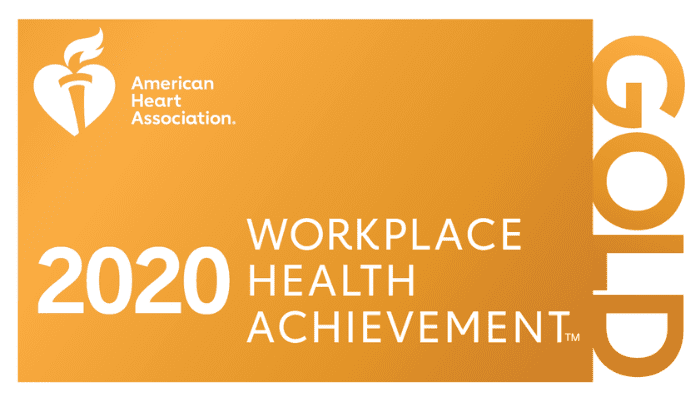 The results of the American Heart Association 2020 Workplace Health Achievement Index were announced today and NKP achieved national Gold recognition for taking significant steps to build a culture of health in the workplace. 
NKP is one of 776 organizations that completed the Index assessment this year, evaluating the time period of July 30, 2019 to June 30, 2020. Of the organizations that completed the Index assessment, 35% received gold recognition, the highest percentage to date, 29% silver and 25% bronze. 
NKP is committed to building a culture and health and wellness for all associates. Our low-cost medical insurance, on-site health clinic and fitness center, and health management programs are just a few ways we accomplish this. 
The American Heart Association, a global force for longer, healthier lives, created the Index with its CEO Roundtable, a leadership collaborative of more than 45 members from some of America's largest companies who are committed to applying evidence-based approaches to improve their employees' overall health. 
The Index is a web-based scorecard that looks at organizational best practices and aggregates employee health data to evaluate the overall quality and comprehensiveness of workplace health programs. Studies show that worksites with a culture of health with comprehensive, evidence-based policies and programs, and senior leadership support are more likely to have engaged employees and a healthier, more productive workforce. 
"We're proud to help deliver exceptional health care onsite and promote healthy lifestyles for associates and their families," said Ronda Fogt, NKP wellness and benefits manager. 
About NKP
NKP is a global supply chain and logistics management company with facilities in North America and Asia. From our headquarters in America's heartland in Sidney, Ohio, we are globally known for providing efficient, reliable and secure services in supply chain management.
About the American Heart Association 
The American Heart Association is a relentless force for a world of longer, healthier lives. We are dedicated to ensuring equitable health in all communities. Through collaboration with numerous organizations, and powered by millions of volunteers, we fund innovative research, advocate for the public's health and share lifesaving resources. The Dallas-based organization has been a leading source of health information for nearly a century. Connect with us on heart.org, Facebook, Twitter or by calling 1-800-AHA-USA1.