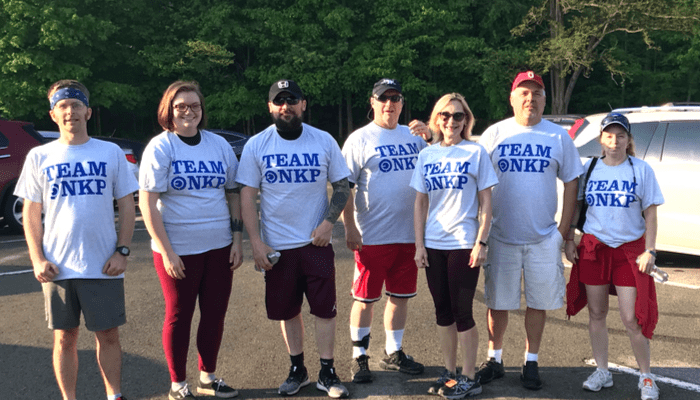 Over the past few years, the company culture at NK Parts has undergone quite a few changes. From work-life balance to leadership to a commitment to the future, working here is a different experience than it was a few years ago.
Read on to learn more about the changes NK Parts has implemented for the good of our company and for the good of our associates and their families.
Transformation of the Corporate Culture
"Tone at the top really, truly does dictate your corporate culture, and if your tone at the top changes, your corporate culture can change with it," Senior Finance Manager Dan Pierron said. "I've worked here for 23 years, and for about the first 18 of those years, it was a very, very different culture than what we've had for the past five years."
Wellness and Benefits Manager Ronda Fogt described NK Parts as a brand-new company. In fact, she was an employee who left and returned.
"Everything is focused on the greater good for all," she said. "Everyone is taken into consideration. Managers and associates work together as a team, so we get complete company buy-in and everyone is moving in the same direction — that's been a wonderful shift in our culture."
Pierron said the changes have made it to where he is excited to come into work every day.
"I look forward to coming to work each day, working with my teammates and making things better for our associates. I think that's really, truly what the culture now has turned into," he said.
Cindy Fisher, who works in the Human Resources department, previously worked at NK Parts for 14 years, went away for five years and then made the choice to return to NK Parts.
"I went away for five years, and I realized the grass isn't always greener on the other side," she said. "I didn't feel the teamwork, the trust and integrity at the other companies that I felt when I was at NKP."
She noted some changes she's seen since she left — such as the increase in the benefits offered to NK Parts associates. And there's the on-site medical clinic, which is free of charge to employees on NK Parts' health plan and is the only one of its kind in Shelby County.
"Nowadays, insurance costs seems to keep rising, so I think that's a great asset to have for our employees," she said. "We also have programs for the employees — years of service awards, retirement awards, perfect attendance awards."
Creating a culture focused on health and wellness
Fogt said the company has made an intentional effort to create a culture of wellness.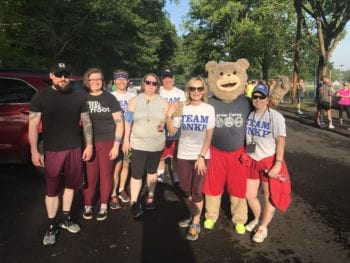 "Wellbeing is not about going to the doctor once a year and getting your lab results," she said. "It's about living a healthy lifestyle daily. We pride ourselves on giving our associates tools and resources they need to successfully reach their personal health and wellness goals."
She noted the company launched a healthy food and beverage policy a year ago. All company sponsored events have a 50 percent rule, if someone brings in donuts, they also bring in a healthy alternative, such as bag of fresh apples.
As an employee, Fogt said she likes the fact that she is rewarded for taking responsibility for her health. By successfully completing the wellness program and being a non-tobacco user, she will save over $3,000 in medical premium discounts in 2020.
"NKP's goal is to create a supportive environment for our associates to thrive." Fogt said. "If we can create a healthy work environment, we believe people of like-mindedness will want to join our team."
Learn more about how the on-site medical clinic is helping NK Parts associates.>>
Increased communication and teamwork
When he first started in HR, Senior Human Resources Manager Brad Oehlhof described the atmosphere in the HR department as tense. He noted there has since been a conscious effort "to share decision-making with the leadership to get their support."
Since she's been back, Fisher said she noticed the interactions between the management team has increased.
"Before, if there were issues or any type of concerns, they would run to HR," she said. "I feel our management team has gotten better where their employees are comfortable coming to them prior to making any request for HR, and their management can handle it."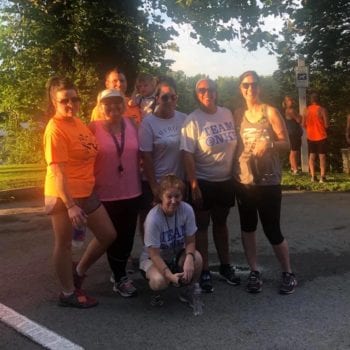 Fisher noted NK Parts also has areas where employees can easily access their information, depending on which location they work at.
"The communication has greatly improved, and employee engagement – how they treat the employees since then has changed," she said. "We've seen growth in the entire company because of it."
Fisher said she's spoken to other employees who stayed with the company. They say they're glad to have her back and describe how the environment at NK Parts has changed for the better.
"The biggest thing was the management is different, as far as the leadership and how they come across and communicate in their atmosphere," she said.
Pierron described the current culture as one where employees are empowered.
"We have a corporate culture where we're empowered, where our executives have our trust in us, allow us to make decisions and allow us to move forward with things, which we weren't used to doing in the past but has now become second nature to us," he said. "It's been a wonderful experience to see this happen over the last five years."
Fogt said it's also about teamwork with the leadership now.
"It's good because they bring some excellent theories and ideas that we may not have even touched upon," she said. "It's a collaboration now when we do our strategic planning or event planning. We're all in this together."
Establishing a Legacy for the Next Generation
Establishing a work-life balance is just one of the ways NK Parts is helping current and incoming employees.
"One of the biggest things I know has changed since I left is the work-life balance," Fisher said. "They've got more areas where they can call in if needed."
Fisher said there's also more leeway for new employees during their orientation.
"Anything can happen during [the orientation period], and we've come to understand that things happen and people need to miss every once in a while," Fisher said. "New hires in the orientation period have more options to cover those situations, whereas they didn't before."
Fogt went back to the recent dive-in to the employee 401(k) plan.
"We're looking at what the legacy is going to be for the next generation," she said. "Our associate contributions are low, but we're hoping 30 years from now, people are set up to retire."
A Stable Company Past, Present and Future
Fisher said she was excited to come back to NK Parts and credited the company's stability and health benefits.
"The biggest thing, which has always been for me, is the stability of the company — just knowing that I can go in there every day and have a job to go to is important to me," she said. "Also, that benefit part. Having the on-site fitness center and the on-site doctor, and also the low-cost insurance."
That stability is what drew Production Manager Chad Spillers to first apply with the company. Spillers, who works in the HTS department and refurbishes transmissions, has been with NK Parts since July 2018.
He applied at NK Parts after he had repeatedly had to re-locate with his previous employers.
"NK Parts has been here for quite some time," Spillers said. "I'm originally from Sidney, so I've known a lot of people who've worked there. I didn't know for sure if they had any openings at the time, but I thought it could be something I could try. Fortunately, they were looking for a production manager."
Looking at the Past to Create a Better Future for NK Parts
Looking back, Pierron said it's important to remember what they've gone through.
"That's what we've experienced in the last five years — remembering the past but thinking about the future; we never want to go back to the past, but we have to study it and understand it so we don't repeat it," he added. "We've been given the opportunity to now make changes and do things not for ourselves, but for the 700-plus people who work here."
He encouraged other companies who are looking to better their culture to never give up or lose hope, because it can happen.
As for Fisher, she said she's happy to stay right where she is.
"I'm happy to be back; it's where I started my career," she said. "Throughout the years, they've given me opportunities and grown me into what my career is now. There are always opportunities; it's a stable company. I plan on staying put this time and not leaving."
Click here to learn more about career opportunities at NK Parts.