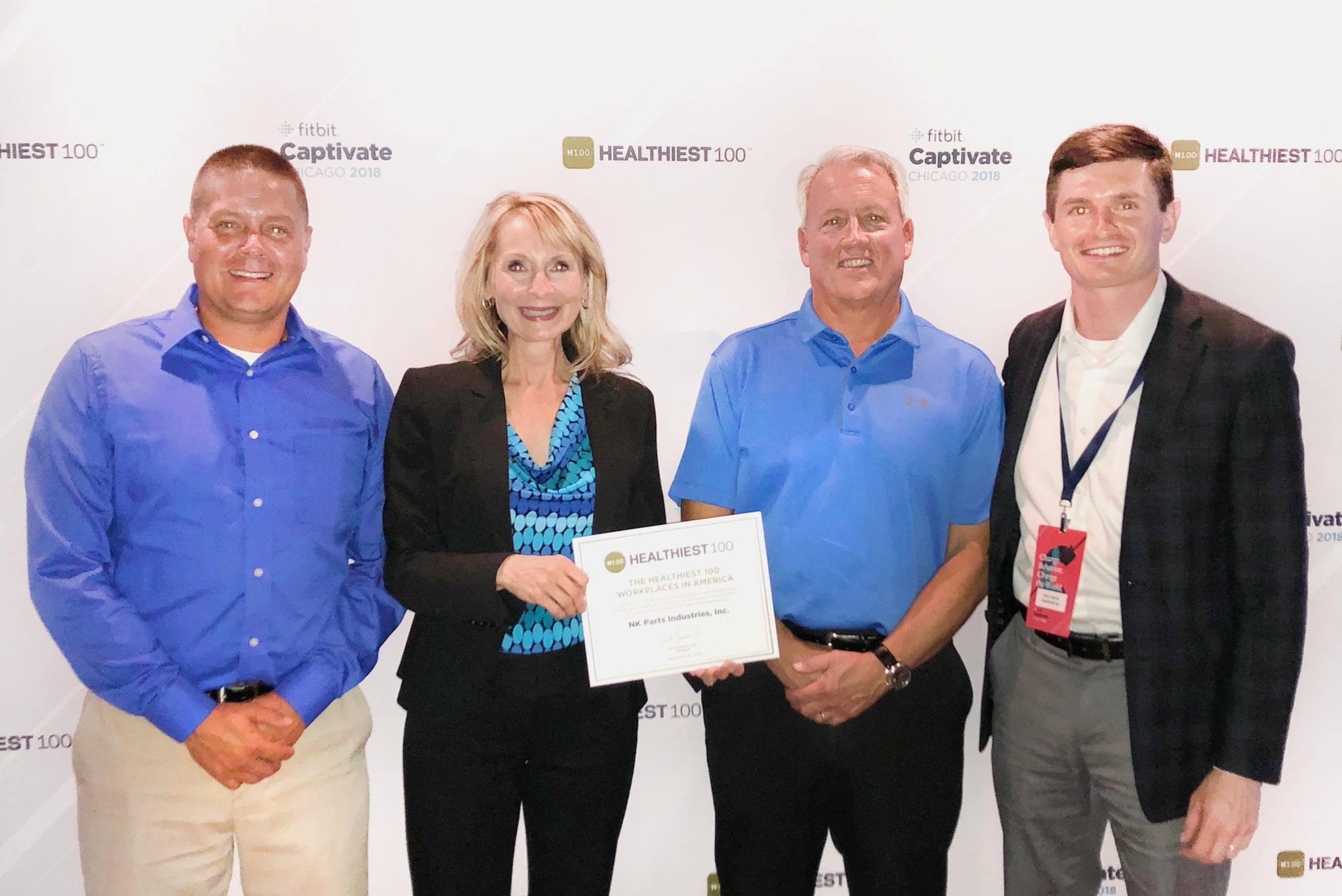 Sidney, OH – September 27, 2018 – NK Parts has been recognized as one of the Healthiest 100 Workplaces in America, an awards program presented by Springbuk®. This year, NK Parts placed 28th, a jump from 61st place last year.
The top one hundred workplaces were honored at the Fitbit Captivate Conference in Chicago on September 20th. The winning organizations were honored for their commitment to employee health and exceptional corporate wellness programming. Over 1,000 of America's top wellness programs were evaluated for this award across the country.
The best of the best in worksite health nationally
Award applicants were evaluated across six key categories: Culture and Leadership Commitment, Foundational Components, Strategic Planning, Marketing and Communications, Programming and Interventions, and lastly, Reporting and Analytics. Applicants were evaluated with the proprietary Healthiest Employers® Index, a 1-100 rubric for wellness programming. These organizations have achieved lasting success through a wide array of employee wellness initiatives and corporate wellness programs.
By winning this award, NK Parts is recognized as one of the best of the best in worksite health nationally. The Healthiest 100 Workplaces in America award culminates the conclusion of the year-long wellness awards program that Healthiest Employers® hosts in over 40 cities across the United States. Each of the winning companies is considered an exemplary leader for the effectiveness of their population health and wellness initiatives.
"This year's winners comprise our strongest class of healthy workplaces since we launched the program nine years ago," said Rod Reasen, co-founder of the Healthiest Employers® Award Program and Springbuk. "This year's Healthiest 100 Workplaces include organizations as small as 19 full-time employees and as large as over 150,000 employees. They span nearly every industry, size, geography and include both private and public organizations."
About NK Parts
At NK Parts, we provide a one-vendor supply chain management system that can provide domestic and international logistics, freight forwarding, exporting, warehousing, packaging, fabrication, manufacturing and more. We work with you to find the most efficient solution to deliver the results you need.
About Springbuk, Inc.
Springbuk is a health intelligence software that empowers everyone in an employer's health ecosystem to glean actionable insights to improve their population's wellbeing and contain claims costs. Their software is leveraged by employers, insurance brokers, onsite clinics, Third-Party Administrators, and wellness vendors to identify avoidable medical and Rx spend. These insights allow every stakeholder to make smarter decisions regarding the health of their employee populations. Each year, Springbuk administers the Healthiest Employers® Award Program across the US to honor the nation's most dedicated employers in bettering their worksite health and wellness programs. Learn more at www.Springbuk.com.