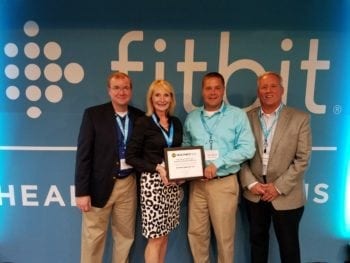 At NK Parts, we "walk the talk" when it comes to the health of our employees. Our strong commitment to employee health has led to our company being named one of the Top 100 Healthiest Employers in the Nation.
More than 2,000 companies applied for the 2017 Healthiest Employer Award, sponsored by Springbuk, a health intelligence and data analytics company.
At NK Parts Industries, Inc., we were 61st in the nation for helping improve the health of our 578 employees through wellness initiatives. The City of Houston (21,811 employees) was 60th, and Chevron (24,000 employees) was 62nd.
"We believe that by providing wellness programs, we are not only improving the health and quality of life of our employees, we are also helping control the healthcare costs in our country."
Find out more about our free health and wellness membership.
We are proud that our health metrics show we are moving the health of our associates in a positive direction. In fact, we had an 85% participation rate for our biometric screening in 2016 – a very high score for a U.S. company.
The selection for this prestigious award was based on six key areas:
Our vision. At NK Parts, we clearly understand the challenges and opportunities in our workplace, workforce and industry, which has allowed us to set our corporate wellness initiative above the rest.
Culture and engagement. We focus on engaging the hearts, minds and bodies of all employees in every respect of our workplace culture, from the working conditions to organizational practices.
Learning. We have a track record of continuous improvement and successful employee wellness outcomes.
Expertise. We have wellness professionals on site who understand our employee needs and can execute wellness programs that work.
Metrics. Our strong focus on wellness means we use data to determine success and make adjustments for continuous improvement.
Technology: We utilize the latest tools and technologies to manage our corporate wellness initiatives.
Companies honored as a Top 100 Healthiest Employer ranged in size from 13 employees to over 160,000 employees.
"We're at an important moment in health. The confluence of data, technology and rise of specialized vendors are giving employers the tools they need to help stabilize cost and improve their population's health," said Phil Daniels, Co-Founder of the Healthiest Employer awards program. "What organizations choose to do in this moment will shape the future of healthcare in America."
The Top 3 Healthiest Employers named were: 1) Wellnext, a manufacturer of nutritional products based out of Sunrise, Fla.,; 2) OrthoCarolina, a Charlotte, N.C., orthopedic practice; and 3) Humana, a Louisville-based insurance company.