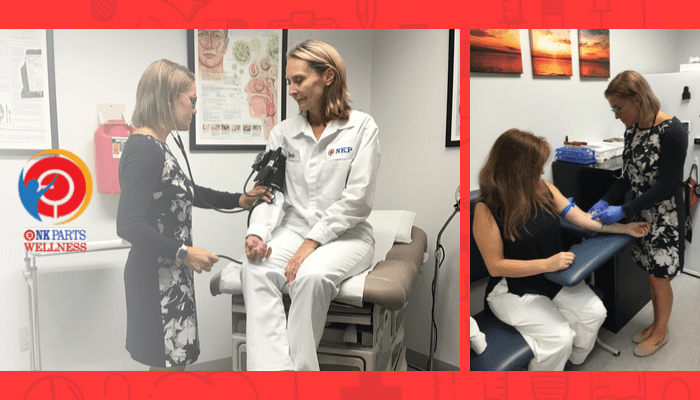 It's been more than 18 months since we opened the Healthstat On-Site Medical Clinic at NK Parts, and both the company as a whole and our associates have already seen a positive impact.
"The clinic has, by far, surpassed our expectations of utilization. It's a win-win situation for the company and our associates. We are receiving high quality health care, and everyone is saving money," Wellness and Benefits Manager Ronda Fogt said. "Associates are seeing measurable improvement in their health. It's incredible what's happening."
Read on to see how our employees are benefiting from this free service, and how we're planning for future health offerings for our associates.
About the Healthstat On-Site Medical Clinic
The Healthstat On-Site Medical Clinic at NK Parts is the first zero-cost medical clinic in Shelby County, Ohio, and is available to all associates, spouses, and dependents (age 2 and up) covered on the company health plan.
Certified Nurse Practitioner Alisa Elliott and Medical Assistant Chancey Wick staff the clinic, and they see approximately 300 patients per month. Overall, the clinic has been positively received by employees and their family members, Elliott said.
"Everyone has been very appreciative to have this benefit," she noted.
The clinic features a variety of services at no cost for associates on our insurance plan. There are no co-pays and no-cost prescription medication. In fact, since the clinic has opened, the dispensary has expanded to carry more than 80 medications.
There are also free services such as on-site lab draws, plus health coaching for tobacco cessation and weight, diabetes, hypertension, and stress management.
Associates can make appointments by calling the Healthstat central scheduling line at 1-866-959-9355 or by utilizing the patient portal.
The clinic's hours accommodate appointments for all of NK Parts' shifts. It's open from 8 a.m. to 4:30 p.m. Tuesdays and Thursdays, from 9 a.m. to 6 p.m. Wednesdays, and from 6 a.m. to noon on Fridays. It is closed on Mondays.
Elliott said her favorite part about working in the clinic is getting to know all of the associates and helping them be successful when it comes to their health care goals. She also encouraged employees to visit the clinic even if they don't currently have any health issues.
Associates may not be aware of all of the services they could be taking advantage of, so she encouraged all associates to stop by the clinic to learn more.
"Saving money is a big draw, but there is so much more to offer than a cost savings," Elliott said.
Keep up with the Healthstat On-Site Medical Clinic on Facebook >>
Lower Costs and Long-Term Health Benefits for NK Parts Associates
Senior Network Systems Engineer Kelly Prescot said the clinic has saved him money since he's utilized the services.
"I save a lot of money on health care costs because I take several medications, and I get them through the health clinic at no additional cost," he said. "It saves me quite a bit of money each month … I would encourage people to use it. It's a great way to stay healthy and save money."
Prescot started seeing Elliott at the medical clinic when they first opened.. He has used the dispensary services, as well as worked with Elliott on monitoring some health conditions and participated in the weight and stress management programs.
"The quality is the same quality of care you would receive in a doctor's office. The people are friendly; they know you. They take the time to talk to you."
Prescot's wife has also visited the clinic and had a positive experience
"She says they're friendly, and they take the time to talk with her about her different health conditions," he said. "They spend extra time – far more and above just a visit. If you need to ask questions, they're always there for that."
More Than Just a Routine Visit
"It's not just the typical 3 – 5 minute visit a person may receive when visiting their doctor's office," Fogt said of a visit to the Healtstat On-Site Medical Clinic. "Alisa will take 30 to 45 minutes with me when I visit the clinic. I went to the clinic for a sinus infection and left the office with medication in hand, as well as an updated tetanus vaccination. She's looking for things that are missing – what else is happening in your life – total health care."
Senior Finance Manager Dan Pierron said that extra touch is what makes the on-site clinic special.
"I think the clinic has been a success over the last 18 months because we've got two people working over there that genuinely want to help anybody that walks through that door. .. There's a lot of relationship-building going on over there with our associates and with the two individuals we've got working there. I don't think you get that an outside medical establishment."
Pierron gave compared a typical medical establishment as rounding up cattle — getting in as many appointments as possible because it's all about the dollar.
"Whereas at our clinic, it's not about the dollar; it's about our associates' well-being," he said. "We've got two individuals over there, a nurse practitioner and a medical assistant, who go above and beyond their duties to care for our folks. I think that's one of the biggest reasons that has made that clinic such a success."