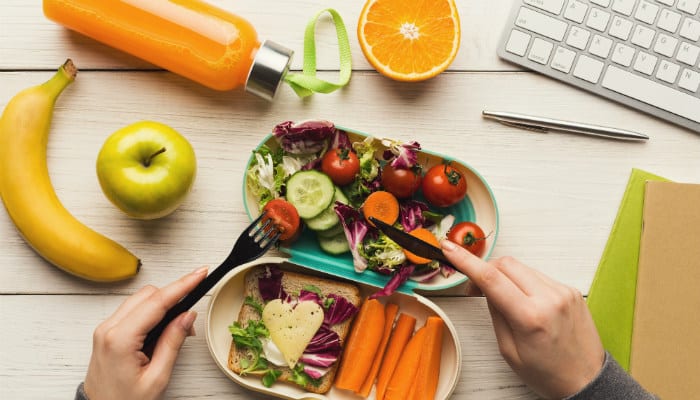 NK Parts is continuing its quest to be a cutting edge leader in healthy living and promoting healthy lifestyles by implementing a new healthy food and beverage policy.
Effective July 2018, NK Parts will provide employees options for 50% or more healthy foods and beverages in all vending machines and at all activities and events sponsored by the company.
This new policy, along with the recent opening of the zero-cost on-site medical clinic, empowers employees with the right tools to make healthier decisions.
Why is Healthy Eating Important in the Workplace?
The reasoning behind the new implementations is simple: Healthy employees are more productive. Not only do healthy employees have better morale, but they also miss less work, have fewer health care costs and experience fewer injuries and accidents.
At NK Parts, we place a strong focus on the health of our associates and their families. That is why we put in place wellness programs that help support healthy eating patterns and regular physical activity.
With the new policy in place, employees now have fresh, frozen, canned or dried fruits, 100% fruit juices, low-fat milk, cheese and yogurt, low-fat whole wheat crackers, chips and breads and other healthy foods in their vending machines and at company events.
Related Article: Bringing Home The Gold: A Commitment To Employee Wellness
Healthy Eating Toolkit
A big part of the new policy also includes providing employees with resources to fuel their bodies nutritiously, such as our new Healthy Eating Toolkit. This handy guide includes a list of healthy beverages, examples of healthier box lunch ideas and instructions on choosing more nutritious catered lunch and dinner options.
The toolkit also has a comparison chart of different foods and beverages. For example, instead of chowing down on the classic bacon and sausage for breakfast, the chart will guide you to switch out those high-fat foods with lean ham or Canadian bacon, vegetarian sausage or turkey bacon.
The toolkit is just one part of the new policy aimed at supporting associates and giving them the resources necessary to properly fuel their bodies.