NK Parts has been named a 2019 Gold recipient of the Healthy Worksite Award by the Healthy Business Council of Ohio (HBCO). It's one of just 15 medium-sized employers in Ohio to receive this distinction. 
Read more about the award and NK Parts' commitment to providing a healthy workplace for all employees.
2019 Healthy Worksite Award
The Healthy Worksite Award recognizes Ohio employers who demonstrate a commitment to employee wellness through comprehensive worksite health promotion and wellness programs.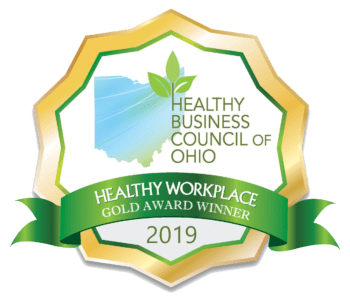 "We were honored to receive the Healthy Worksite Award for 2019," said Ronda Fogt, Wellness and Benefits Manager. "This underscores our commitment to providing the best possible work environment for all employees. We'd also like to extend our congratulations to the other recipients."
Applicants are scored on how well their wellness programs facilitate and encourage employee health, enhance productivity and ensure a healthy work environment.
All applications were reviewed and evaluated using objective criteria. Three levels of high achievement were awarded in 2019 — Gold, Silver and Bronze. Other applicants, who met basic criteria, received a Recognition award. 
"This year's application was more comprehensive than past years so worksites could more effectively become competitive with national trends in workplace wellbeing programming," explained the Healthy Worksite Award Co-Chair Annie Laurie Cadmus.

She added, "Worksites who are recognized this year should be especially proud of their accomplishments knowing they have provided their employees with nationally competitive and well-rounded programming that supports healthy lifestyles."
The online award application is available to all Ohio-based worksites from mid-August through late October each year. While the 2019 application deadline has passed, Cadmus stressed that the HBCO would like to encourage all worksites, large and small, public and private, for-profit and nonprofit, to consider applying for the Healthy Worksite Award in 2020.
Healthy Worksite Award Ceremony
The awards ceremony will be held at 12:30 p.m. on January 23, 2020, at the Nationwide Hotel and Conference Center in Columbus, Ohio, as part of the Health Action Council 2020 Annual Columbus Symposium. 
The symposium features national experts on health reform, health care systems and health benefits.
NK Parts and Employee Health
Providing a safe, healthy and enjoyable workplace is an important part of the NK Parts culture. Below are just a few of the ways we promote employee health and wellbeing:
A healthy food and beverage policy to encourage choosing nutritious options

An

on-site medical clinic

that's free for employees, spouses and dependents

A 24-hour fitness center for employees and their families

A Healthy Me program allowing associates to earn a discount on their medical insurance premium
To learn more about our commitment to employee health, visit our benefits page.