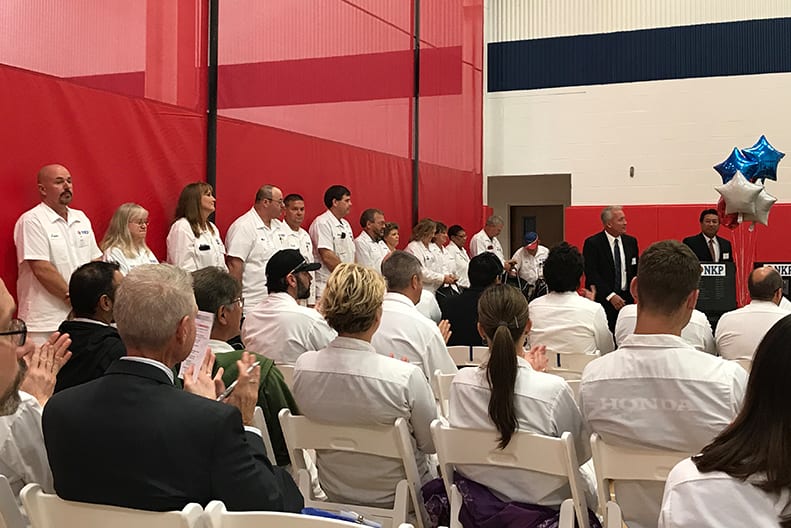 NK Parts recently celebrated our 30th anniversary at an awards ceremony held at our main office in Sidney.
Among the attendees were some of our past presidents, Maskatsu Kuroiwa, 2003-2009; Hiroshi Sakairi, 2009-2016; Kenji Okamoto, 2016-2018; and Yasuyuki Mizumachi, who is the current president. All were recognized for their dedication to the company. A plaque with all the presidents' names was unveiled during the ceremony.
The growth of NK Parts
Maskatsu Kuroiwa, our sixth president and current member of the NKP board of directors and president of NIKKON Holdings, spoke about the company's growth over the last three decades.
"NK Parts was founded on Dec. 1,1987,and began operations here in Sidney in May 1988," said Kuroiqa. "At NK Parts we have followed in the tradition of our parent company, NIKKON Holdings, providing Logistics, Manufacturing and Technical R&D support from a customer viewpoint. We keep this in mind as we serve our customers and the wider community.
"From our roots here in Sidney, NKP has grown to hold 176 (one hundred seventy six) acres of land, over 1,250,000 (one million two hundred fifty thousand) square feet of buildings, an office in East Liberty, and sales offices in Chicago, Illinois and Laredo, Texas. Currently, in North America and Mexico, we have eight companies that make up the NK Parts Industries Group. NK Parts, NK America and Subsidiaries, Auto Technic Americas, and NK Parts Mexico. These eight companies combined, employ 1,121 associates.
See what NK Parts can do for your company >>
"I humbly recognize the help and support of the customers, local officials and employees who made these 30 (thirty) years of growth and expansion possible. I would like to take this time to express my deep gratitude to all of you," he said.
"The key to our past and present success is that our dedicated workforce focuses tremendous energy to anticipate and fulfill the needs of our customers," Kuroiwa concluded. "In the future, NK Parts will continue to passionately serve our customers and community not only here in Sidney, but also throughout our expanding sphere of operations in North America."
30 years in supply chain management
Dan Pierron, senior manager of finance, has been with the company for 22 years.
"It's hard to believe that NKP has been a part of the Honda supplier and Sidney community for 30 years," said Pierron.
"During the past 3 decades, we have seen many changes. Processes have changed, technology has changed, leadership has changed, but 1 thing has remained the same. Our associates. We have a dedicated workforce that has been committed to NKP through all of our challenges. This is evident with the group of tenured associates joining us this morning who will be recognized in a few minutes. Without the dedication of our associates, NKP would have struggled to reach the milestone we are celebrating today," he said.
"Our associates are a reflection of the parent company and the importance of family. We were founded by the Kuriowa family and we are embraced by them today. Any person who joins the NKP team becomes part of this family. Thank you to the Kuroiwa family for treating us like family and taking care of us like family," said Pierron.
NK Parts: one family
Two customers were recognized who have been doing business with NKP for 30 years. They are Honda of America Manufacturing Anna Engine Plant and KTH Parts Industries.
Also recognized were associates with more than 25 years of employment with the company.
Joe Taylor has been an employee with NKP since day 1. He had 30 years, 3 months of service with the company.
Other associates honored were Mike Hamblin, 29 years, 7 months; Rochelle Wiliams, 29 years, 5 months; Kelly Wolfe, 27 years, 9 months; Deb Schilling, 27 years, 9 months; Jill Maxwell, 27 years, 1 month; Lee Tingley, 26 years, 4 months; Darby Watkins, 26 years, 2 months; Bad Oehlhof, 26 years, 2 months; Mike Preee, 25 years, 11 months; Nicol Lauderback, 25 years, 11 months; Deb Hall, 25 years, 1 month; and Jason Worley, 25 years.
"When you stop and think about the total number of service for those 13 associates, it adds up to 352.4 years worth," said Hetzler. "That's astonishing."
Check out our new healthy food policy for our employees >>
Building a culture of support within NK Parts
We attribute our success over the last 30 years to our outstanding associates. Together, we work as one team to provide efficient, reliable and secure services.
With our continuous growth, we realize the importance of keeping our employees healthy, and we're driven to give our associates every opportunity to thrive in our wellbeing journey. That's why we offer an on-site medical clinic, a free associate fitness center and our NK Parts Healthy Me Program. Join our team today to experience every part we have to offer.